Being in existence for more than 400 years and still in pristine condition, the Tile Roof Bridge of Luong Pagoda is a fine example of superior ancient architecture in the 17th-18thcenturies.
Also called Luong Market Bridge, it can be found around 100 metres along the way to Luong Pagoda, such the name. It is a significant part of the community because not only is it used for transportation purposes, but also for activities and perhaps most importantly, for people to stop and have a little chat or simply to just pause for a while and appreciate the simple yet true beauty of their place.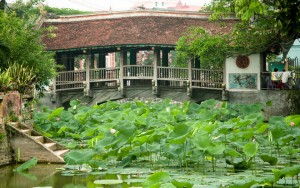 The bridge was constructed in the 16th century along with Luong Pagoda itself. It was designed in "thuong gia ha kieu" style which literally means "the house is above and the bridge is below." It resembles a long tile-roof house with the upper part being the tile roof with a system of pillars and beams as in a traditional house.
The lower area on the other hand is the banisters and the roof. Both components of the structure are joined using round pillars (along the banisters) and two gates at the ends of the bridge. There are nine compartments built strongly on 18 square stone pillars. On top of the pillars is a system of tie-beams and horizontal beams which lift up the girder and floor of the bridge and made of Lim (Erythroploeum Fordi Oliver) timber. The floor of the bridge is two metres wide, covered with flying dragon-shaped tiles and made of the same timber.
The wooden part of the bridge is designed with simple carving, but one which highlights traditional Vietnamese architecture. The gates have an arch shape with two rows of pillars with Chinese parallel inscriptions. The top of the gates are designed with two lion cubs carrying a big letter which is "familiar and solemn."
The Tile Roof Bridge of Luong Pagoda does not only feature the one-of-a-kind and amazing architecture of Vietnam, but also of the richness of its history and culture which are truly world-class.