With its spectacular landscape and pure natural beauty, Ba Khan Plain resembles Ha Long Bay in so many ways, but in a smaller scale and mostly a secret from the general public.
Situated along Da River and below Thung Khe Mountain Pass, Ba Khan is a hidden gem of lush forests, charming ponds and mesmerizing waterfalls. It has a perimeter of over 20 kilometres of untouched beauty hiding under equally beautiful mountains, fog and clouds. It has a 10-kilometre line of lovely bamboo bushes and small houses that further decorate the already perfect view.
Ba Khan is part of Mai Chau Commune, Hoa Binh Province. It has three villages, Khan Ha, Khan Ho and Khan Thuong, all forming a small but closely-knit community. The Thai ethnic people used to live in this area for centuries, making a Ba Khan a haven of culture and history as well. Ba Khan is considered a "forgotten" land with Mai Chau being the focus of tourism in the province. But to the frequent visitors of Ba Khan, this is an advantage to keep the immaculate condition of the secluded paradise.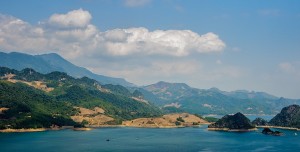 In the recent years though, several family-owned tourism companies opened and established a number of tourist-related activities that the visitors can avail. Kayaking in the Da River enables tourists to have a more up-close view of the place or a boat ride for one to two days to have an even deeper appreciation of Ba Khan.
In autumn, visitors can witness how the water at Da River transforms into a mysterious deep blue colour and the bamboo bushes shed off their leaves poignantly. In the summer, the rice fields turn into a magical golden hue while delightful smell of harvest fills the air. But whenever one chooses to visit Ba Khan, its pristine, hidden beauty will always leave its spectators in awe and wanting for more.