Insider, a huge American travel site, just named Mu Cang Chai as one of the 19 Most Picturesque Peaks on Earth because of its breathtaking terrace fields.
Mu Cang Chai is a rural town located in the Northern Province of Yen Bai. It is 1,000 metres (3,300 feet) above sea level at the foot of the Hoang Lien Son Mountain Range. Its beautiful terrace fields began hundreds of years ago when the H'Mong ethnic minority group carved them. Even today, local farmers still plant and harvest on the range.  
Watering the fields is done from April to May in preparation for new crops. The reddish brown color of the soil is a perfect accompaniment to the blue sky and green forests during this time. Between June and July, the paddy rice is all full-grown, creating a green blanket from the foot to the peak of the mountain along with the lush forests. It is this enchanting deep green color of Mu Cang Chai which caught the eye of the Insider and named it "a hidden gem" in the mountains. Insider likened Mu Cang Chai's greenness to a beautiful painting which can change from emerald green to golden yellow to light brown depending on the month. The end of autumn from September to October is when the rice turns ripe and the terraced fields to a mesmerizing golden color.
Mountain paths around Mu Cang Chai have become famous tourist attractions as well. The Khau Pha Mountain Pass has become a favorite destination for paragliding and in fact hailed by professional paragliders as "one of the world's most beautiful locations." Paragliders can take pictures of the amazing Mu Cang Chai terraced fields and of the entire majestic landscape while on the air.
Recognizing this boost in their tourism, the local government of Yen Bai Province has been taking specific steps to continue the momentum like hosting yearly festivals; constructing roads; building tourism-related establishments like hotels and restaurants; and developing community-based tourism like travel agencies and homestays.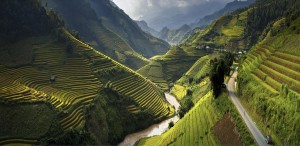 Included in Insider's list of the 19 most beautiful mountains in the world are: Mount Fuji in Japan; Rainbow Mountain in Peru; Kirkjufell Mountain in Iceland (the world's longest continental mountain range and shooting location for the famous television show "Game of Thrones"; the Andes in Bolivia; the Alps in Europe (its biggest mountain chain); and Mount Rainier in Washington, United States (also an active volcano).
Its beautiful terraced fields and the unique culture of its local ethnic minority groups have given Mu Cang Chai a one-of-a-kind character – truly world class.