Xe loi or Xe dap loi or Xich lo, otherwise known as pedicab, used to be the king of the road in the Mekong Delta. But in today's fast-paced world and even cheap motorized public transportation, only a few remain, concentrated in Chau Doc District in An Giang Province. It is one of the few communities which did not follow the ban on three-wheeled vehicles in 2004.
The pedicab started in Mekong Delta between 1884 – 1945, during the French colonial period, specifically to replace rickshaws. It is basically made up of a regular bicycle attached to a big two-wheeled trailer with a seat for the passengers. It was so affordable and convenient that it soon became the common mode of transportation among locals and foreigners alike, found in almost every corner of the place. They can even be found roaming the streets as early as three o'clock in the morning to make sure to provide the transportation needs of the people.
Some drivers become so familiar to the passengers that they become regulars, being personally called to be hired. Most regular customers are market stall owners who hail the pedicab to carry and set up their wares at their business locations.
In the 1990s, the pedicab service started to wane and only about more than 50 of it can be hailed particularly in the station and market areas. Currently, there are even less, with only around 12 of it left in the whole district. Drivers charge VND50,000 (U.S.$2.3) for a one-way trip and VND30,000 each for two passengers riding at the same time. Most visitors hire the public vehicle to go to the Sam Mountain, a popular tourist destination located about six kilometres from the local market.
The arrival of motorized public vehicles like buses and Xe om (motorized taxi) is the major downfall of the traditional transportation. Pedicab drivers then began to migrate to Ho Chi Minh City and other nearby provinces and work in factories in order to find a new source of livelihood.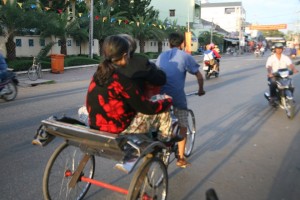 But despite the alarming situation of pedicabs in Mekong Delta today, many, if not most, drivers are still keeping a positive attitude about it. They believe that living close to the border of Cambodia provides them with many opportunities economy-wise. They believe that compared to other places, it is still easier to find a source of income in Chau Doc District. Moreover, the abundance of fish in the area is more than enough for them to stay because it means they will not run out of food which is their most basic need.
Despite the failing outlook of the pedicab service in the district too, drivers still take pride in their work. They do not allow passengers to help them push the vehicle up a slope even when it becomes very difficult for them to do so on their own. Accepting help from their passengers translate to them as not doing their job properly, something which their self-dignity cannot live with.
With such optimism and pride, the pedicab service in Chau Doc District may just survive the modern world despite the advancements in transportation and most other things.