The name Co Do Village may not ring a bell to most, but when Painter's Village is mentioned, it becomes familiar to almost everyone. That is because farmers in the said community turn to painting after a hard day's work to release their stress and at the same time develop their creativity using the very same fields where they toil in as their subjects.
Co Do Village is located in Ba Vi District, about 70 kilometers from the suburbs of Ha Noi. Situated by the Red River, it is abundant in alluvial red soil. It is home to 3,000 people, living a traditional life of residing in small tile-roofed houses and bamboo clumps. The residents are also good at making rice vermicelli. But despite the simplicity, the place is rich in history having lived through many dynasties. It is home to several popular people actually considered national heroes: Princess Thieu Hoa, the sixth Hung King's daughter who instituted the silk-weaving handicraft in the commune; and Nguyen Ba Lan and Nguyen Su Manh, who developed the literary and examination customs in Co Do.
But most importantly, the village made its mark in the world by its hardworking farmers who, after toiling all day at the farm, still find time to do other productive things, particularly painting, initially to relax but ultimately to hone their artistic skills. Their newfound hobby has become so widespread that even children have joined in the activity. In fact, Co Do Village has transformed into a training ground for young and upcoming artists, producing over 30 world-class professional painters in the process. Nguyen Sy Tot, Tran Hoa and La Vuong are some of the world-renowned painters who learned their expertise from the painting classes at Co Do.
Nguyen Sy Tot is actually the one responsible for placing Co Do Village in the global map in the field of painting. He is so revered in the community that a two-storey museum was built and dedicated to him in 2006, showcasing 100 of his most popular paintings. The Ha Noi Fine Art Museum was constructed in honor of Nguyen Sy Tot, displaying some of his masterpieces such as the Be Con (Embracing Child) and Tieng Dan Bau (The Sound of the Monochord Musical Instrument). His subjects are usually farmers, workers and soldiers either in their work or personal state. Children who are studying painting visit the museum and burn incense in respect of the man who established the art tradition of Co Do.
Tran Hoa is a member of the Viet Nam Fine Arts Association whose works have been featured in foreign countries like Austria and the Netherlands. Perhaps jokingly, he said that maybe it is the combination of the water from Hong River and wind from the dike which gives inspiration to the Co Do residents to paint brilliantly.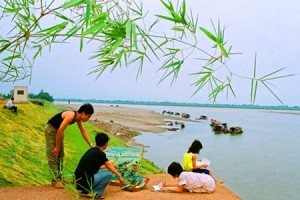 Farmers and children who took up painting at Co Do create a myriad of art works from simple mediums to complicated subjects. But be it a picture of the riverbank, rice fields, red-tiled houses and other parts of their surroundings, their finished products are guaranteed to be masterpieces because they are taught by local but highly-skilled painters. Hoang Tuan Viet, president of the Co Do Fine Arts Club, is another globally-recognized painter who grew up taking the painting classes with nothing but pure love for the art. His teacher was no less than Nguyen Sy Tot.
Viet has joined in countless national exhibitions and sold many of his paintings not only in Vietnam but in Canada and United States as well. He also teaches at the high school department of Co Do. Although he teaches painting simply in his small garden or at the local museum, he is proud to have produced successful personalities either as painters, art teachers or art students. His passion for painting and drive to continue the Co Do tradition is what makes everything possible.