A trading port in Quang Nam Province which was closed 400 years ago for the establishment of the now famous Hoi An City is currently being planned to be transformed into a community-based tourism site in order to give international tourists the opportunity to experience a rural lifestyle first-hand.
Tra Nhieu was a bustling trading port in the central Quang Nam Province between the 16th and 17th centuries. Located on the Thu Bon River, it sold junk and other items to sailors and practically people from all walks of life. But when Hoi An was built on the North riverbank area later on and catered to bigger vessels, it caused an alteration in the river flow which eventually destroyed Tra Nhieu Port altogether, leaving only some remnants of a pagoda and some stone statues.
Tra Nhieu Village is spread along a two-kilometer area along Thu Bon River. The main sources of livelihood are fishing and sedge mat weaving. Some people are into rice farming, while the others still do a little bit of trading, although not as prevalent as before. About 3,000 tonnes of seafood are produced every year, while 20 hectares of land are set aside as sedge farms. The village can be reached by taking a 10-minute ferry trip from the wharf in Hoi An, followed by a 15-minute bicycle ride to the location itself.
Rice farming is seasonal and climate-dependent, so despite the low income and hard work, two-thirds of the population still depend on sedge mat weaving. It takes three hours to complete one mat which sells for VND50,000 (U.S.$2.40). 60 mats in one month will earn a weaver about VND3 million. A 1,000 square meter farm will bring in approximately VND20 million (U.S.$950) annually.
Sedge mats has become a tradition in Tra Thieu too, given as a wedding gift in a belief that it will bring happiness to the newlyweds and even to their descendants. In such an occasion, the best artisans are chosen to weave double-sized mats designed in different colors and ancient scripts. Based on custom, the older people are the only ones authorized to lay the mat on the couple's bed at night after the wedding ceremonies. Each mat is carefully dried; dyed; and weaved and guaranteed handmade and strong enough to last one to two years.
Today, the once-flourishing community is sparsely populated at only around 2,000 people residing. In order to preserve and in fact promote the area once again, the government constructed a plan about four years ago to develop Tra Nhieu, along with the neighboring Ban Thach Village and Duy Vinh Commune, into a community-based tourism site highlighting life in the rural village with the purpose of giving visitors a chance to appreciate a traditional lifestyle as well as experience it on their own.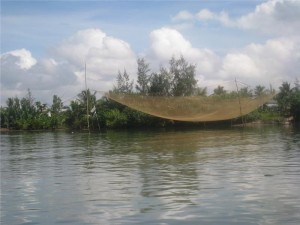 Ban Thach Village is also known as one of 68 traditional craft villages in Quang Nam Province. The residents sell mats like Tra Nhieu, but most of their products are machine-made instead of handmade. As such, it's difficult to sell their products sometimes. But most Ban Thach villagers prefer machine-made mats than handmade ones because they are easier and faster to make and actually earn more than the traditional style. On a good day, they can market more than 1,000 mats by noon. Eight mat-weaving machines operated by 16 employees for instance can produce 1,800 mats every month. A worker who can produce eight mats with one machine can make VND112,000 (U.S.$5.30) per day. This gives him/ her more time to do other chores like house cleaning, cooking, taking care of the children and even farming.
So far, the tourism project has already trained 100 Tra Nhieu residents to specific services like cooking, fishing, tour guiding and coracle paddling. An average of 30 tourists visit the village everyday. But according to travel companies and other tourism-related agencies, the local government still has a long way to go in terms of accomplishing the project at full throttle. Investments should be made in certain structures and other tourist attractions such as cruise ports, reception centres, folk art troupes, fishing team, boat-renting, paddling coracles, cooking class, biking and a well thought-out local cuisine. The mat-weaving industry should be revived both for cultural and tourism purposes. The mats can be sold as souvenirs to tourists, but in portable sizes since the traditional mats are usually too big to be carried and transported internationally. A fishing team for example, can earn between VND70,000 (U.S.$3.30) – VND100,000 (U.S.$4.80) per service while a world-class meal can charge VND70,000 per guest.
At present, there is a lack of proper communication and cooperation between the local administration and tourism agencies in Tra Nhieu, creating not only a delay but in fact hindrances in implementing the project completely. Unless concrete and strict steps will be taken to make this plan a reality, it will continue to be just a dream, a big waste for such a high-potential place in terms of both history and tourism.