The InterContinental Danang Sun Peninsula Resort recently received three prestigious awards which only proved its excellent standards and further elevate it to world class stature. The World Travel Award (WTA) Asia-Oceania; The Most Luxurious Resort In Asia; and The Best Spa Resort In Vietnam are the honours received by the elegant establishment on October 15 at the resort itself in a grand event participated in by more than 200 guests and covered by international media.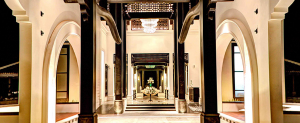 InterContinental Danang Sun Peninsula Resort is built by the internationally-acclaimed architect Bill Bensley and invested by the Sun Group. In order to make the ultimate hotel, Bensley spent over a year travelling around Vietnam and even more than five years conceptualizing the design of the resort itself. All the effort has been obviously paid off since the result is a stunning, gorgeous edifice that is worth a global recognition.
The resort is a perfect symphony of Vietnamese architecture and culture inspired by several structures such as the ancient Hue royal citadel, the Hoi An ancient town, and the quaint Northern villages in the country. It is an impressive balance between historical, natural elements and contemporary, state-of-the-art architecture. The service and amenities are also truly of international standards.
The rooms are simple yet elegant, each with a view of the outside in order to be in harmony with nature. There are several restaurants each with its own specialty cuisine: Citron; Barefoot; and La Maison 1888. The latter is the most popular being owned by the legendary three-star Michelin chef Pierre Gagnaire and serving exquisite French cuisine. The Harnn Heritage Spa is another world quality service in the hotel offering authentic Asian therapy and traditional medicine. It was recognized by the World Travel Awards as the best in Asia, stamping its mark in international excellence.
If you want an elegant stay in Vietnam, experience the world class service of InterContinental Danang Sun Peninsula Resort and have a wonderfully unforgettable memory that you will hold for a lifetime.