Tam Coc – Bich Dong in the Northern province of Ninh Binh is an UNESCO-recognized site because of its inherent beauty especially during the harvest season. But even when its not, particularly in May, the Trang An Scenic Landscape Complex where it is located is a must-visit because of its equally stunning sight.
The Mua Cave Complex is one attraction in the place because of its complex but breathtaking cave systems and Limestone Mountains. The name "Mua" itself is an interesting subject as it is a mystery where it originally came from. But according to the local residents, King Tran, who used to rule over the area, enjoyed musical performances so much that the place eventually earned the name "Mua" which literally means "dancing."
The Mua Mountain is also another place in the complex worth visiting because of its several towers. Located on a winding road on top, going there is also an adventure in itself as guests have to take on a challenge reaching the peak.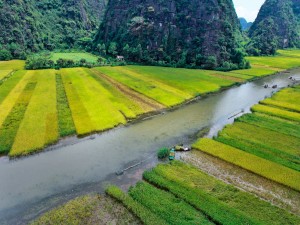 The Ngo Dong River also provides a lovely view with the limestone mountains surrounding it and wooden boats decorating the waters.
The harvest season falls between June and July wherein the colours change from subtle green to a bright, beautiful yellow, the reason why many tourists are enticed to visit the place during this time. But then again, in May and the rest of the year, any time is an ideal time to visit Tam Coc – Bich Dong.