Phu Quy Island off the mainland of Binh Thuan Province in the South-Central Coast is known for its rich history and natural beauty. When it used to be expensive to travel to the exotic place, today it only costs around VDN1 million (US$45) in order to enjoy not only a day but two days of pure bliss and peace.
For the history buffs, the Linh Son Pagoda is a must-visit with its amazing architecture and interesting origin. For the adventure seekers, they can indulge in such activities as diving, urchin catching and fishing for only VND500,000. For those who are simply after sightseeing, they can look at the different unique rock formations, fishponds and a lighthouse found in the island. Motorcycles are available for hire for a mere VND50,000 exclusive of one day tour around the place.
Phu Quy Island also boasts of its food with its seafood guaranteed fresh every day. Guests can have it cooked barbeque style or any other way by the local islanders and enjoy it by the beach. For those who want to stay overnight or even more, guests can avail of homestay services wherein they stay at one of the local residents' houses for an authentic experience of the island. It only costs VND50,000 and visitors are assured of a decent stay and hospitable treatment.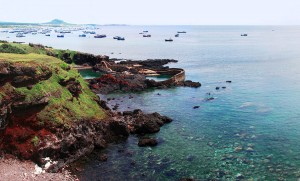 Phu Quy Island can be reached by first taking a bus ride from HCMC to Phan Thiet in Bnih Thaun Province. A round trip ticket is priced at VND240,000. Tourists then have to take a 120-kilometre boat ride to the island itself which will take six hours when taking a regular boat, but only four hours when riding the high-speed boat. There are two boat trips every day, one at 8:00 in the morning, and another in the afternoon.
Visitors are advised though to bring their own food and drinks to the island since there are not many stores in the area. In order to get the best experience at Phu Quy Island, April and May are the ideal months to visit when the sea is serene and therefore all the more breathtaking.