Vietnam's young tech start-ups are showing so much talent and potential that international financial giants are pouring in all their investments into the new sector with confidence of a big turnaround.
In March 2016, multi-national companies like Goldman Sachs and Standard Chartered PLC increased their investment in the e-wallet MoMo operator by $28 million, while Silicon Valley-based venture capitalist 500 Startups put in a $10 million investment into the country. The latter's focus is in automated marketing service Beeketing with an estimated revenue of $2 million this year and customers usually coming from the United States. Investors are willing to put in their money in 10-20 companies in a one-year period in Vietnam because they are that confident in the skills of the young workers and in the possible outcome.
For a long time, Vietnam has been back seat when it comes to the technological sector. But since its global success of the Hanoi-based Flappy Bird game, it suddenly levelled up to became the Southeast Asian production hub of South Korean giant Samsung Electronics Co. Ltd. In the meantime, the international firms that have been setting up office in the country for a long period of time are now expanding into research and development.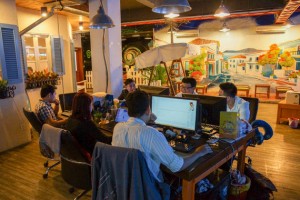 Vietnam is attractive to investors because its labour is cheaper compared to China. It is also a member of Trans-Pacific Partnership, ensuring free trade deals with the European Union. But more than these is the country's exceptional computer science students, with even a young population of up to 30 years old, guaranteeing a long-term excellent performance in the technological field. Moreover, start-ups in Vietnam do not depend so much from government support and in fact have their own version of Silicon Valley named Vietnam Silicon Valley in order to be self-sustaining when it comes to technological needs.
Vietnam's start-ups focus on e-commerce. Last year alone, sales in this sector increased to 35% or a total of $4 billion and a 2.7% share to the general retail sales in the whole country. Giaohangnhanh is one such logistic service provider in Vietnam which greatly aided in lessening the overall logistics costs in the country to one fifth of gross domestic product in 2015 from a fourth in 2014. Another big-earning start-up is the food-finder application Lozi which was funded a seven-figure investment from DesignOne Japan Inc. and Golden Gate Ventures from Singapore.
With this kind of run, it wouldn't be a surprise when Vietnam soars even higher in the global technological sector sooner than expected, producing more and more promising products that are definitely world class.