Many of you have probably watched the famous Hollywood movie "Kong: Skull Island." Aside from its awesome plot, one can't help but notice the spectacular scenery: lush forests, majestic mountains, clear waters, among others. Van Long Lagoon is one of the locations of the set, the largest wetland nature reserve site in the Northern delta of Ninh Binh Province.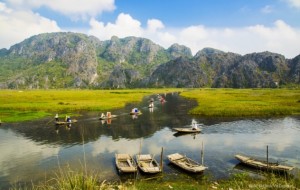 Van Long Lagoon is home to thousands of rare animal and plant species, many of them facing extinction. And despite being a frequent tourist destination along with the Trang An Scenic Landscape Complex and Tam Coc-Bich Dong National Park, other locations where the movie was shot, Van Long Lagoon has maintained its natural state of purity and beauty.
Van Long Lagoon is located at Gia Vien District, in the Northern Province of Ninh Binh. It is about 80 kilometres from Hanoi and has a total land area of 3,500 hectares. It started welcoming foreign visitors in 1998 and has been a favourite choice of set location among internationally-acclaimed filmmakers ever since because of its breathtakingly untouched, pure beauty.
Bamboo basket boats are available for rent to tour around the beautiful waters of Van Long Lagoon where one can witness its unbelievable serenity rhyming in total harmony with the equally enchanting sounds of nature. Birds such as storks and a mesmerizing sunset are common but unforgettable sights at the lagoon.
Ninh Binh Province boasts of other amazing natural landscapes such as towering cliffs, gigantic mountains and many charming lakes. "Kong: Skull Island" was directed by known film director Jordan Vogt-Roberts and is a must-see movie.