The Lunar New Year, most commonly known as Tet, is the most anticipated and popular Vietnamese holiday. It is also the longest lasting up to seven, even nine days. This year, the Ministry of Labor is contemplating whether the number of days for Tet holiday will be seven or nine, and it is for the prime minister to make the final decision.
A seven-day Tet holiday will entail a straight long vacation for government employees from February 18 – 24, 2015. If the prime minister chooses the nine-day option, it means that the break will take effect from February 15 – 23, 2015, but state workers will have to come in on February 14, Saturday to make up for the additional day off on Monday, February 16.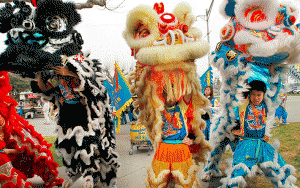 A survey was conducted to find out the people's preference and so far, the seven-day Tet holiday option is the more favoured choice because it doesn't have any interruptions in between. Vietnamese government workers will have a long, well-deserved rest after working hard the whole year. The Ministry of Labor, War Invalids and Social Affairs also prefer this schedule since it will create an equal number of days off both before and after Tet.
Basing on the Gregorian New Year holiday, the government agency suggests January 2, 2015, Friday be declared a non-working holiday so that civil servants will have four straight days off from January 1 – 4, although they have to work on a Saturday too, December 27, 2014, to pay off the extra day off.
The two proposals have already been submitted to Prime Minister Nguyen Tan Dung who will study and decide on the best option. The decision of course will base on the greater good, that is, the best possible scenario for state workers to take a long, much-deserved rest after working hard the whole year, be with their families after being away for a long time, and enjoy the most important Vietnamese festival.