National Geographic, an acclaimed American travel magazine, has recently published the list of 10 traditional celebration foods in the world and included Banh Chung and Banh Day (Giay) in it. With a global circulation of 8.3 million in thirty-six languages, Vietnam is honored to have their popular traditional cakes to have entered the list.
The list features 10 of the world's celebration food which honors traditional foods in festivals of countries across the globe. Tet (Vietnamese Lunar New Year) is the country's most important celebration of the year which is taken seriously by locals. It is an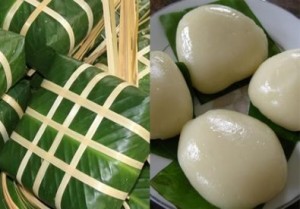 occasion for Vietnamese families to reunite, reconcile and invite good fortune for the coming year. Several practices are observed during the festival, all with significant meanings. The Chung cake (or Banh Chung, which are square packets symbolizing Earth) and Giay Cake (or Banh Day, which are round packets representing sky) are essential elements of the family altar during the celebration.
Both cakes are eaten all year round as a delicacy of Vietnamese cuisine and are among the country's national dishes.
Other foods that made it to the same list are the Bread of the Dead (in Mexico's Day of the Dead), Hákarl (in Iceland's Thorrablót), Moon Cakes (in China's Mid-Autumn Festival), Hamantaschen (in Jewish Purim), King Cake (in Mardi Gras), Besan Burfi (of India's Diwali), Kahk (of Egyptian Eid al-Fitr), Haggis (of Scotland's Burns Night), and Pastelitos del 25 de Mayo (of Argentina's May Revolution).