For Vietnamese retirees, especially those who have been living in the city for a long time, a quiet and peaceful place to settle tops their list. Over the past several years, Hoi An has been the choice destination for such a purpose because not only does it provide a restful solace for the elderly, it also offers all the other requirements that retirees need: affordable cost of living, friendly locals, great food, and exquisite beaches.
But it is not only the local citizens who are choosing to retire in Hoi An. A considerable number of Westerners have in fact discovered the simplicity yet beauty of the place and have also decided that it is the best place to settle during the remainder of their lives.
Compared to retiring in the West, living in Hoi An is way less expensive, giving more value to one's hard-earned and saved money. With less than US$1,000 a month, two people or a couple at that can already live decently in the place, inclusive of rent and even dining out.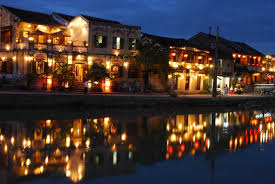 When it comes to food, Hoi An offers world-class quality of both international cuisines and local specialties. The beaches and other natural sights are pristine, also favourite tourist destinations. The local people are hospitable, even taking extra effort to help and make their visitors feel welcome. Housing is affordable, with an abundance of houses, hotels and homestays, and even more being continually built to accommodate the growing needs. When it comes to medical needs, Hoi An also has high-end hospitals around.
An international school opened three years ago, making education accessible and comfortable especially for migrants. Moreover, Hoi An is near Danang which has an international airport, making travel even easier.
For one, some or all of the reasons stated, it's not actually surprising that more and more retirees, Vietnamese or Westerners, are choosing to stay in Hoi An. With everything and even more that one needs for a peaceful retirement, Hoi An is definitely a haven to come home to.