Y Ty is a commune in Lao Cai Province, Bat Xat District which used to be the poorest. But today, because of its natural beauty and hidden mystery, it has made a total turn around and is now a famous destination for tourists from all over the globe.
Like most traditional provinces perhaps, Y Ty is made up of mountains, forests, old houses and close-knit villages, among other features. Y Ty is located at Nhi Cu San Mountain, about 2,000 meters above sea Level.
But while seemingly ordinary, Y Ty has in fact specific unique characteristics which sets it apart from the rest. Entering the place alone is a world all of its own as dense white clouds gather at the entrance, making one feel like being in another world. Y Ty is situated higher than most high-altitude places, making it darker and colder than most. Its terraced fields are also one of particular interest to visitors because of its different terrains that have been amazingly maintained by the Ha Nhi ethnic people. During and after planting season is also a sight to see as tourists will be able to observe the residents plant seedlings during the "pouring water season" in May and admire the transformation of the whole place into a sea of green after. Amateur and professional photographers often frequent the place during this time because it makes an ideal photo subject.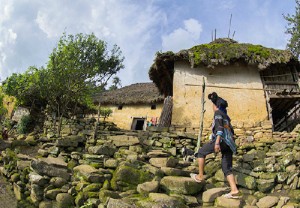 Mushroom-shaped earthen houses are also a popular tourist attraction in Y Ty because of their basic but unique architectural designs. An earthen house is between 60-80 sq. m. big, with walls made of clay 40-50 cms. thick and a roof made of straw grass. A single door and one small arched window are purposely designed to provide warmth during the cold season and enough coolness in the summer. Building an earthen house begins with the home owner looking for the perfect location. When this has been achieved, the foundation is then built with stones. The walls are made next followed by soil placed into a mold and jammed and layered together with wooden pestles. The roof is made last composed of wooden beams and purlins. Despite its simple design, it takes one month to build an earthen house because of keen attention to Details.
Befor leaving Y Ty, visitors always drop by the Saturday market where they can buy souvenirs such as traditional clothes made by the Ha Nhi, H'mong, Dao and Giay ethnic people. Agricultural products are also in display, showing the richness of this sector in Y Ty. But Y Ty is rich in culture and history all in all, that is why it has become a favorite tourist spot despite its simplicity and traditionalism.