In celebration of Tet this February 19, 2015, the Ham Nghi Street in downtown Ho Chi Minh City will be filled with flowers up to a 580-meter stretch which will run from Pho Duc Chinh to Ho Tung Mau.
Along with the colourful decorations, mascots as well as other ornaments will be featured during the most important festival in Vietnam, all showcasing the beauty of the nation's countryside, cities, planned metro systems, and of course the unique and interesting Vietnamese traditions.
Ham Nghi Street will be divided into three segments: Vietnam's Magnanimity (Hao Khi Viet Nam); Vietnamese Identity (Ban Sac Viet); and Glory Viet Nam (Vinh Quang Viet Nam). The first segment will display the country's products such as handicrafts, regional dolls and other Vietnamese brands. Ban Sac Viet will highlight the different joyful colours of Vietnam, like the apricot flowers which symbolize spring. Glory Viet Nam will parade elements of the urban life in Vietnam such as letterboxes, door frames and two metro lines, either designed with or totally made from flowers.
A book fair will also be conducted between the streets of Ho Tung Mau and Ton Duc Thang. The said activity is a yearly event held as a part of Tet.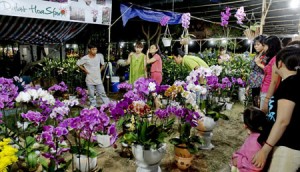 Preparations will begin on February 6. The street will be open to the public from February 16- 22, complete with all the embellishments and festival-related activities.
Ham Nghi Street has earned the nickname "Flower Road" because of the annual flower arrangements done on its parts. It has been in existence for 11 years now and will definitely last more because of such exciting tradition.