Vietnam is the first and only country to export dragon fruit to New Zealand. This was established on May 28 when the Official Assurance Program for the export of dragon fruits from Vietnam to New Zealand was signed in Hanoi by New Zealand Ambassador to Vietnam Mr. Haike Manning and Director General Nguyen Xuan Hong from the Plant Protection Department of the Vietnam's Ministry of Agriculture and Rural Development.
Official Assurance Program has the special task of laying out the procedures and activities to be followed before export begins to make sure that only high-quality dragon fruit leaves Vietnam and enters New Zealand. This means that the said products should meet the requirements of bio-security and health.
But the business partnership is not a lucky shot or a short-term plan. Vietnam and New Zealand have been working together for some time, through the Vietnam-New Zealand Premium Fruit Variety Development Project in which the official development assistance program of the latter sponsored and helped in the growth of the dragon fruit sector of the former. Working hand in hand, New Zealand's Plant and Food Research and Vietnamese Agricultural Research Institute discovered methods to control a dragon fruit canker disease that broke out all over Asia. At the same time, new dragon fruit varieties developed under the project will be bred to have immunity against the said disease.
The project also successfully pushed through for two particular proposals: legal protection of the dragon fruit variety LD5; and sale of the fruit license to a commercial farm. This is a breakthrough since this is the first time that a fruit variety in Vietnam has been legally protected, an assurance then of delivering world-class quality products to producers.
The trade relationship between Vietnam and New Zealand is a strong one, especially in the agricultural industry. In 2013, the two-way trade of goods between the two countries rose to 21.7% compared to the previous year. This is equivalent to a rise from USD761.7 million to USD926.8 million. Dairy product export from New Zealand to Vietnam comprises 52%, while the export of wood products covers 13%.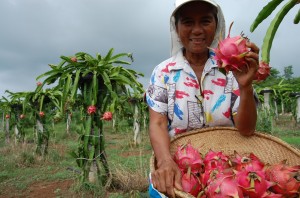 On the other hand, the bulk of imports from Vietnam to New Zealand are products like food and beverage, the latter specifically mangoes, coconuts, crustaceans and coffee. Technological items like telephones/ cell phones and computers also enjoyed a 125% and 242% increase this year and in 2013, respectively. At present, New Zealand is in the process of importing Vietnamese rambutan.
Considering its longevity and achievements, the trading relationship between Vietnam and New Zealand appears to be a stable one. It is hoped that this will be constant for the advancement of the tourism sector and the nation as a whole for both countries.