Ly Son is a small island situated about 30 kilometers from the central province of Quang Ngai. Its total land area is only ten square kilometres. It belongs to a cluster of other islands of which it is the biggest. It is most known for as the "Kingdom of Garlic" because of its vast fields of high quality garlic. But Ly Son Island offers so much more with its rich history, culture and food which tourists from all over the world find interesting enough to visit.
Although Ly Son Island is relatively small, more than 20,000 people live in the area. The An Vinh and An Hai communes are the concentration of most residences. Although trip to the island is on a daily basis, there is only one so visitors must be aware of the schedule when planning to go to Ly Son. There are two modes of transportation, the fast vessel which takes about one and one-half hours to get to the place, and the wooden ship which will take around three hours before reaching the island.
Ly Son Island was dubbed the "Kingdom of Garlic" owing to the fact that the place has numerous, big plantations of it. 300 hectares of the total land area are set entirely aside for garlic cultivation. The local farmers yield an annual harvest of 1,500 tons which they are able to sell at VND100,000 a kilo. For the special type, the price can even go up to as much as VND1 million per kilo. Shallots also abound in the area and all residents have both shallot and garlic beds in their backyard.
If you plan to visit Ly Son Island between June and September, you will be able to see an overload of shallots and watermelons. The former are planted generously at the bottom of Thoi Loi and Gieng Tien Mountains and create a spectacular especially sight especially when viewed from above. The latter may be smaller than the product in the mainland, but the flavour makes it more preferred by the people. October to December is harvest season for garlic, and tourists visiting at this time can join in the activity. From late February to early March, the island commemorates their soldiers through the Hoang Sa Festival.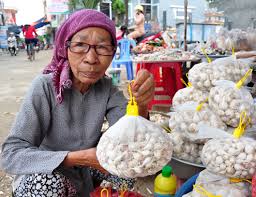 But aside from its natural and agricultural richness, Ly Son Island also has interesting historical sites which tourists can visit. Among these are: Duc Pagoda; Hang Pagoda; To Vo Gate; the army squadrons memorial of Hoang Sa and Truong Sa; Am Linh Tu Temple; the ancient houses in Ly Son District; Thoi Loi Mountain; and caves.
Ly Son Island also competes when it comes to cuisine. Among its specialties are urchin porridge, king crab, black sticky cake and garlic salad. Hotels are available for tourists with room rates between VND350,000-VND400,000. But homestays are also available for tourists who want to have a full immersion of their visit at only VND50,000-VND100,000 per night. For those on budget or simply want to have an adventure, they can bring and set up their own tents along the coast.
Ly Son Island may be the "Kingdom of Garlic," but there is surely more to it worth finding out and experiencing for oneself.