Standing tall and proud at 1,700 metres high on top of a mountain and bearing the national flag, Lung Cu Flag Tower is an icon of Vietnamese freedom as it fought against its Northern enemies in 1798. Located at Dong Van District, Ha Giang Province, it is something that visitors should visit since aside from carrying the national pride, it is also an air of mystery.
Lung Cu is the home of two ethnic minority groups, the Mong and Lo Lo. The Mong people live in what is called the "Corn Valley" because maize is the only crop that grows in that area. The Lo Lo ethnic group shares a story about the origin of the place, believing that the two lakes at the peak of the mountain which they call "wells" are the eyes of a sacred dragon.
According to the legend, life at Lung Cu used to be hard because there was no easy access to water. The dragon sympathized with the villagers and so before rising to heaven, it left his eyes to the people which later became lakes, each belonging to one ethnic group.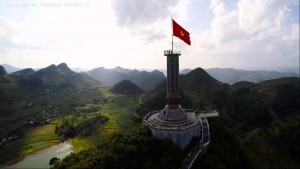 Another story about how Lung Cu started goes that it dates back from the late 18th century. In 1978, it won against its Northern invaders and to celebrate their victory, Emperor Quang Trung had a giant bronze drum placed at the peak of the mountain to be struck three times every two hours. The mountain thus earned the name "Lung Cu," a variation of "Long Co" which means "King's Drum."
There are 389 stone steps that lead to the summit of the mountain and another 140 steps from a spiral iron staircase in order to reach the tower itself. There is an octagonal monument that is 33 metres high with a base designed with Dong Son drums and images of the 54 ethnic groups in Vietnam. At the peak of the tower is a 54-metre square flag symbolic of the same number of minority groups in the country.
Lung Cu Flag Tower also started with General Ly Thuong Kiet, one of the greatest leaders of the country. And while the tower itself is already a thing of beauty and pride in itself, the natural landscape surrounding it adds even more magnificence to the whole scene. The Nho Que River below delicately leads to Ma Pi Leng Pass, one of Vietnam's four highest passes. Charming Lo Lo houses can also be found by the rice fields.
The whole scenery is a picture of national independence, mystery and breathtaking beauty all in all.