Under the theme "Northwest Colours," the National Tourism Year 2017 in Lao Cai – Tay Bac officially closed with a ceremony on December 16, 2017 at the Northern Province of Lao Cai.
Chairman of the provincial People's Committee Dang Xuan Phong was the key speaker of the event who emphasized the development of tourism in their area through the years, which includes awareness of role and improvement of services of all agencies and businesses concerned. As such, economy in the province progressed because of livelihood creation and investment surged.
In fact, the tourism sector in Lao Cai and other North Western districts increased by 30% in 2017 compared to the past years. As a result, not only did the economy of the province improve, but the confidence and general lives of the local people who started earning an income because of the boost of tourism in their locality.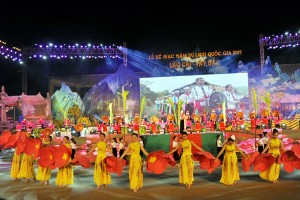 At the culmination ceremony, Prime Minister Nguyen Xuan Phuc named Sa Pa District as a national tourism site, the second to be recognized as such in Vietnam. Along with the declaration was the approval to promote Sa Pa to become a town in 2018.  
Nguyen Van Binh, leader of the Central Committee's Economic Commission of the Communist Party of Vietnam (CPV) was also at the gathering and spoke of certain points that needed to be addressed regarding tourism: public awareness; restructuring the sector; finalizing policies; investing more in infrastructure; and strengthen tourism promotion. He commended the efforts of the province as well as its regional localities in hosting the said event.   
One of the activities conducted during the culmination was a conference between the Steering Committee of the North Western Region; the Economic Commission; the Ministry of Culture, Sports and Tourism; and the Lao Cai People's Committee who stressed the need of creating a master plan on tourism development for the region and sub-regions by 2030. They also discussed the importance of promoting their regional tourism products to further boost the said sector. Representatives of Saigontourist, Hanoitourist, Viettravel and Asia Paradise JSC also signed documents which cited specific agreements with certain localities on advocating their tourism products through the following routes: Tuyen Quang – Ha Giang – Bac Kan – Cao Bang – Lang Son; Hoa Binh – Son La – Dien Bien – Lai Chau; Phu Tho – Yen Bai – Lao Cai – Ha Giang; and Son La.
The National Tourism Year in 2018 will be hosted by the Northern Coastal Province of Quang Ninh.