In order to further boost its tourism, Hue City is planning to install an audio guide system, free Wi-Fi and e-tickets in all its attractions to entice more visitors.
The audio guide system is programmed in five languages and is set to be placed in the royal citadel and major tomb sites in the capital. English will be the major language in the system, but the other four languages are still undecided. There is no definite time frame yet too as to when it will be launched.
Director of the Centre for Preservation of Hue Former Citadel Relics Phan Tanh Hai noted that the system is not free though. Tourists will have to pay for both entrance tickets and the guide.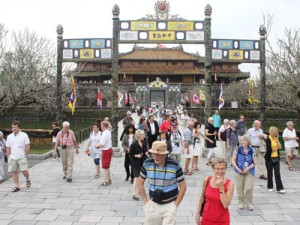 Hue City is historically known as the Imperial City. Located at Thua Thien-Hue Province, the place is famous for other historical and cultural sites such as pagodas and other natural attractions which makes it a popular tourist destination. During the National Day last September 2 and 4 alone, the province welcomed about 58,000.
In the first eight months of 2016, international tourists to Hue increased to 36.5% from 2015. This is equivalent to over half of the almost 1.8 million visitors who entered Thua Thien-Hue. As such, it is important that the province regularly improve its tourism sector in order to attract more visitors all the time.