tourists.Hop-on hop off is a global bus service company which offers ease and convenience to tourists all around the world. And now it has opened its doors to Ho Chi Minh City to bring international quality of service to its
Hop-on hop-off went through a six-month trial period before being granted official operation license to ply around the city. And though two other similar services have initially been approved, the addition of another city tourist bus service will further boost tourism at Ho Chi Ming City. The first two bus services bring their passengers between downtown and Tan Son Nhat International Airport.
A hop-on hop-off ticket costs VND199,000 (US$8.8) and is good for 24 hours. This is inclusive of any location in the downtown area such as Ben Thanh Market and Independence Palace. Tourists also have a choice between a combination and single ticket purchase if their destination is around the Cho Lon or Chinatown area in District 5. A combination tour to Thien Hau Pagoda and Binh Tay Market costs VND100,000 (US$4.4), while buying a ticket separately costs a little higher, VND149,000.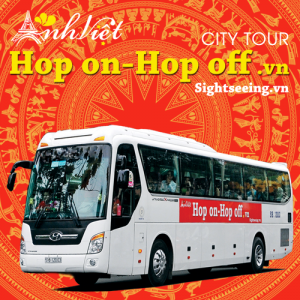 The buses tour around the city from 8:00 a.m. to 8:30 p.m. while tourists can enjoy free Wi-Fi and audio guides in several languages like English, Korean, French and Spanish along the way. Maps of the routes can also be found inside the buses, all for the convenience of the travellers.
With three tourist bus services now plying around Ho Chi Minh City offering even more ease and convenience to its visitors, more international tourists are even expected to arrive, an estimated 5.1 million visitors or over 10% increase than in 2015.