According to the Daily Mail in United Kingdom, Hang En Cave is the third largest in the whole world. In fact, it is so big that it has its own climate and a system of river and jungle.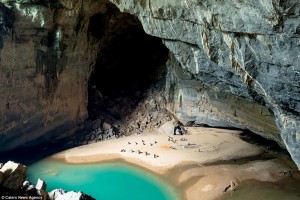 It is impressively huge at 130 metres high and 150 metres wide. It is such a stunning sight that it has become one of the most popular  tourist destinations all over the world wherein people from different parts of the globe come to appreciate the amazing work of nature and make sure to take photographs in order to have a lifetime souvenir of the gigantic beauty.
Hang Son Doong Cave is listed as the world's largest cave. It was discovered in 2009 by a team of British cavers led by Howard Limbert. The Deer Cave in Malaysia comes in at second.